We've lately witnessed the ever-growing accessibility of mobile devices and the expansion of online shopping. So little wonder that the global eCommerce share of retail sales is projected to perpetually increase to 21.8% (equivalent to $6.388 trillion) by 2024. Concurrently, the demand for eCommerce website design is reported higher as well. To make those websites more accessible and intuitive to potential customer segments, a company necessarily looks for eCommerce website design services that are capable of meeting its requirements.
What Is an eCommerce Website?
In recent years, the advent of an eCommerce website has replaced the traditional role of emails and phone calls in commercial trades.
By definition, an eCommerce website is a virtual portal where transactions between purchasers and vendors take place electronically. The utilization of exchanging of information about products or services and payments has never been easier with a few simple clicks. Moreover, the appearance of the cloud algorithm allows computerizing and storing the database of involved participants and orders.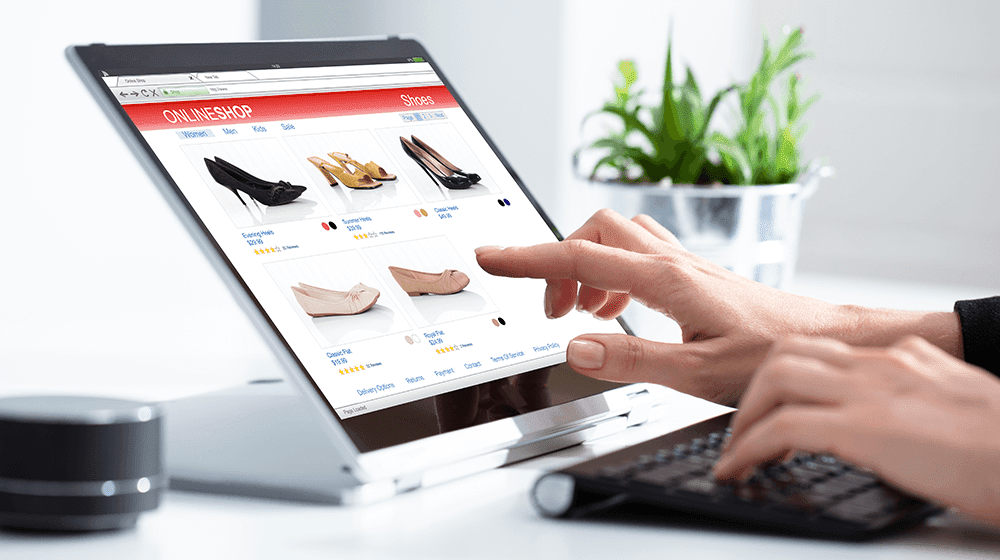 To build an eCommerce website effectively, a company should pay attention to specific functions the website will perform. Accordingly, an eCommerce website design model comes into four basic varieties as follows:
Business-to-Consumer (B2C): Commercial transactions occur between companies and individual customers.
Business-to-Business (B2B): Commercial transactions are conducted between companies.
Consumer-to-Consumer (C2C): Commercial transactions take place between individual customers, normally on intermediary trading platforms such as eBay or Amazon.
Consumer-to-Business (C2B): Commercial transactions occur when individual customers provide companies with goods and services.
Differences Between B2C and B2B Ecommerce Website Design
1. Customer intent
Customer intents, or underlying incentives behind purchase decisions of B2B and B2C shoppers, are different.
The implementation of B2B eCommerce website design is to prioritize companies whose buying decisions need to satisfy a group of different people. This takes those buyers a long time to list more detailed requirements for product assessment and thoroughly research such inputs. That's why B2B e-tailers target top-of-the-funnel and middle-of-the-funnel leads. Those portals then strive to turn those prospective visitors to customers by using outbound (phone consultations or media buys) and inbound (content or paid search) marketing strategies.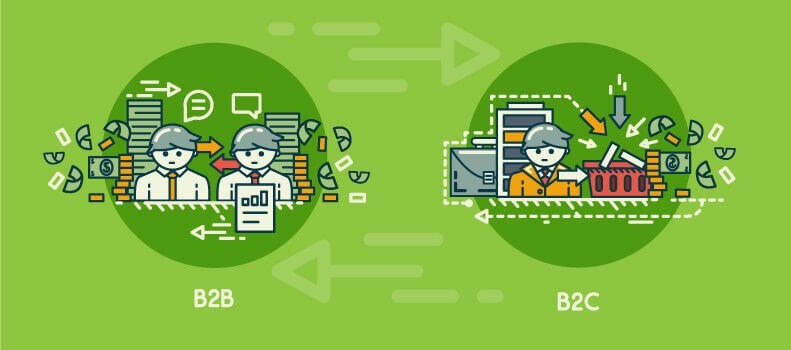 Meanwhile, B2C purchasers act on feelings and personal demands. They revel in browsing around to compare product prices and features. Therefore, there will be a decrease in the average time for sales reps to approach customers. Also, the relationship with B2C vendors will be temporary when compared to B2B counterparts. Since B2C customer intent is driven by such cognitive motives as scarcity bias, promotions, social proof and more. That motivates B2C sites to adopt optimization tactics to boost conversion rates.
Recommended reading: Web Design: What It Is and Why It Matters?
2. Purchase process
The B2B purchase activities involve multiple stakeholders from distinctive departments, buying units, and even end-users. The ultimate goal of businesses isn't to produce immediate sales, but rather to attract more leads. Therefore, respective eCommerce websites often embrace business-oriented content, marketing assets (e.g. videos, emails, etc.), and interactive tools to specify how products and services tally with such a clientele's requirements.
By contrast, the B2C eCommerce website design facilitates product exploration and a sense of urgency among individual customers. They may either snap up products believed as good deals or snatch something highly recommended by previous shoppers.
3. User experience
Both B2C and B2B trading platforms want to maximize user experience (UX). But this trait varies depending on the mentioned customer intent and buying procedure. According to Nielsen Norman Group, both types of sites work on five different UX specifications:
B2B eCommerce website design should accompany more informative, diverse content to support a longer-term purchase process.
B2B pricing mechanism is more complicated on grounds of product customization, diversity, and sheer volumes. Also, B2B products can be negotiated for favorable discounts.
B2B contents must tailor to decision-makers and end-users.
Information and regulatory requirements of B2B products must be clear enough so that purchasers can determine whether those goods are compatible with their existing workflows and systems.
B2B e-tailers serve different business clients in terms of industry, scale, and operational budget. Thus, B2B site navigation must base on audience segmentation.
Advantages of Using BigCommerce for Designing a Site?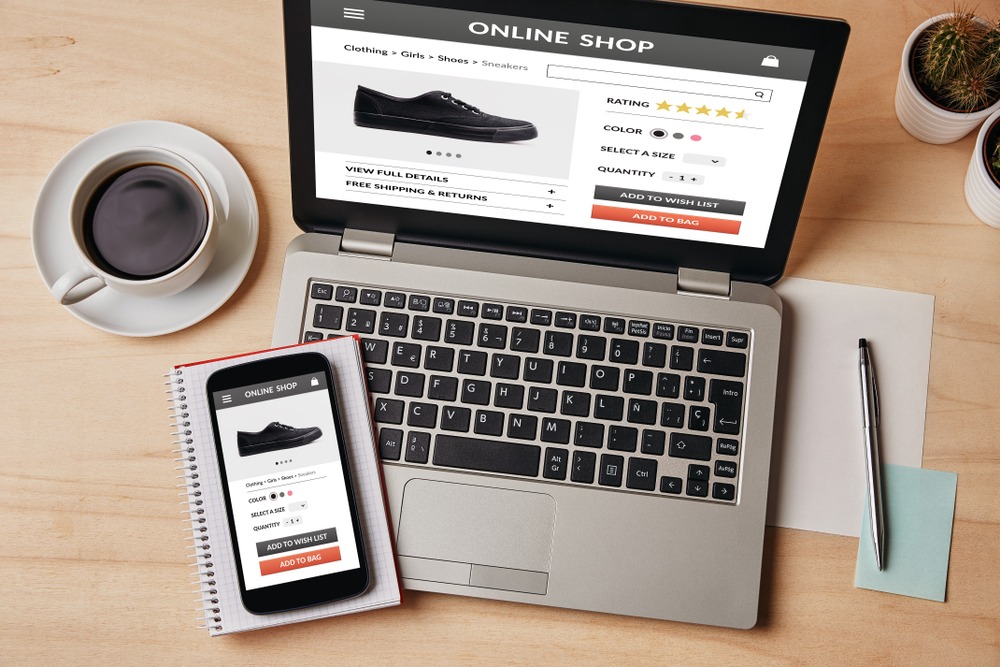 BigCommerce is a leading SaaS trading platform for small and medium enterprises (SMEs) to establish online stores, handle transactions and payments through the Internet. Already built-in functionalities of the cloud-based software facilitate the eCommerce website design process. Here are four major reasons why using BigCommerce to create a virtual store is a decent option: